In the search for Paradise:
No paradise today, I'm lazy as fuck.
Partyネットワーク

Koshka's Kingdom: Amazing articles about autism, internet culture, DOS games... GET ON IRC!



Lolwut: The internet is serious business! The chaotic branch of the net. Be ready with your best equipment when clicking on the guestbook.



Cidoku: 天才. Articles, songs, flash animations... you name it. Say hello to Shirogami!



Prints: A very comfy place to explore. ゆっくりしてね!!!



Emerald Coast: Dreamcast! Pokemon! Anime! All good tastes are in this website!



Shadowm00n: The webpage of a talented man with software. You can find here scripts and discussions about tech and videogames!



Herzbluntnord: Member of the AGS団 and the one who travels through the radiowaves. Beautyful website with some links related to Steins;Gate, Lain and... DENPA!



nether: Swiss knife of technology and co-host of the Internet Fun Machine. In this website you can also find nether's blog, with REALLY GOOD art.



Manjaruntu: A computer and tech lover! He has cool websites to check and it's starting to make articles.
Dataワイヤース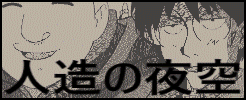 ArtificialNightSky: I love reading this website. There is a lot of hikikomori content and all the information about Honda Toru is just amazing.

Webcore Archive: A Tumb*l link... It has a lot of cool pictures from the Y2K.

event.sstp.nu: The rabbit hole for a lot of japanese webpages from between 2000 and 2006 aprox. Enjoy the exploration!